success story
RideSMRT: Increasing Transportation Options in Rural Areas
Mass transit is the ticket
Scenic Mississippi Regional Transit offers a SM(a)RT ride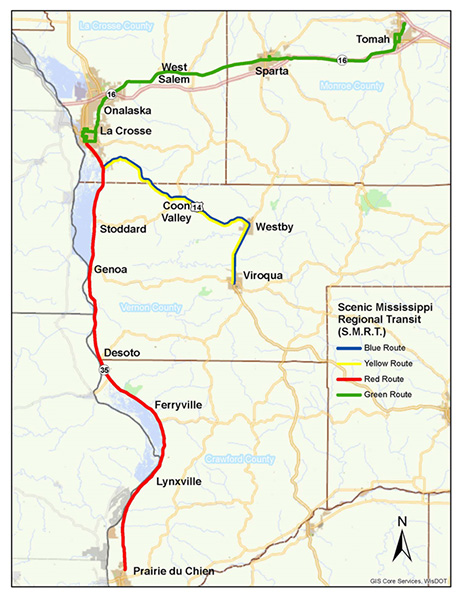 Southwest Wisconsin features scenic views from lazy roads that curl through the bluffs overlooking the Mississippi River. For people living in the rural hills and valleys, though, there was no easy way to get to work, school or appointments, and few options for joint travel to reduce fuel emissions. Elderly and disabled people needed inexpensive transportation options—so did students, employees and even tourists. Bus service could be a solution, but it would take a lot of cooperation—and money—to provide an efficient and effective transit system that would serve long routes over often-challenging terrain.
Communities collaborate for mass transit
A study confirmed that bus service in a three-county area of southwest Wisconsin could be feasible. Initial partners were the Mississippi River Regional Planning Commission, City of Prairie du Chien, Crawford County and the Wisconsin Department of Transportation (DOT) and grew to include La Crosse and Vernon counties. Together, they worked to build relationships with local municipalities and businesses and to apply for grants and other funds. And then came the vehicles: Three 26-passenger accessible buses were purchased by the city of Prairie du Chien, with primary funds from the Wisconsin DOT, and Viroqua-based Running Inc. was hired to operate the passenger service.
SMRT bus hits the road
Scenic Mississippi Regional Transit, also known as RideSMRT, began service in December 2012 and now carries passengers from 14 cities and villages. Monroe County joined the program in 2017, extending operations to four counties. Four designated routes cover territory that extends from Tomah and Viroqua to Prairie du Chien, with La Crosse as the hub city. The buses run Monday through Friday at a cost of $3 per ride. Local government, state and federal funds support the bus service as well as area businesses, including Gundersen Lutheran Health System, Vernon Memorial Health Care, Organic Valley and the Otto Bremer Foundation.