Stories of Rural Resilience
Learning From Each Other
Wisconsin's rural communities are known for their resilience and self-reliance. Pulling together to support neighbors is what we do. Here you'll find inspiration from communities that have banded together to chart the best course forward. Ideas from rural businesses that were able to overcome challenges in innovative ways. And success stories that show just how vibrant rural life can be.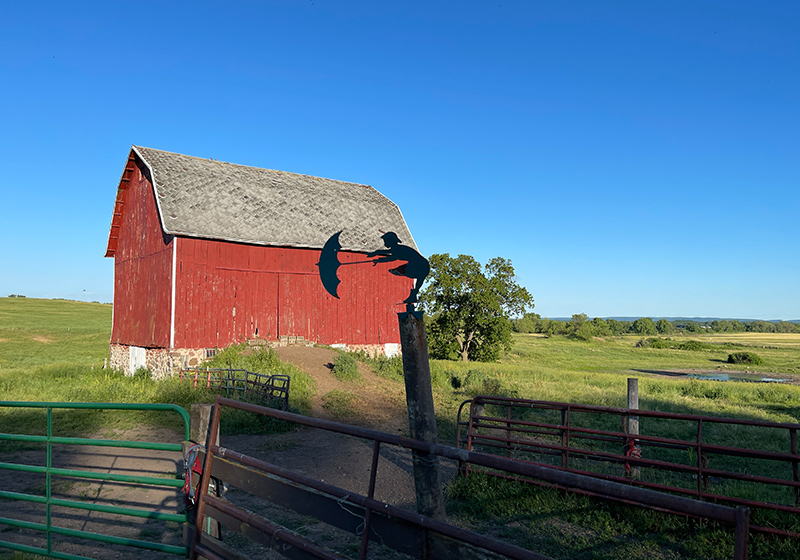 Tackling a child care void

Child care facilities have always been hard to come by in Sawyer County. A community survey found a severe shortage of affordable, quality child care in the county—especially for infants and toddlers. New parents face waiting lists that are several years long for a spot at existing facilities.

GROWing our own teachers

School districts throughout Wisconsin are struggling to recruit high-quality educators–with college degrees, state certification and expertise in their given field—and convince them to stick with the job for the long term. The problem is particularly acute in rural communities.

Kickapoo Valley Forest School: Forging Connections to the Environment

Residents of the verdant Kickapoo Valley—part of the Driftless Region, untouched by glaciers—wanted their children to understand and appreciate the natural beauty and resources of the woods and streams around them. They wanted regular outings for youngsters in the environment surrounding them in the Kickapoo Valley Reserve, an 8,600-acre conservation area that offers a wealth of nature to explore. The primarily rural region in southwest Wisconsin also faces socioeconomic challenges and few options for child care.

Vernon Food Enterprise Center: Focusing on Food and Wellness

The Vernon County region in western Wisconsin is home to many small and midsize farms and food processors that had little access to the broader marketplace. The region also lacked a place to expand food processing, marketing and distribution or to make locally grown food surpluses available to families, schools, health care organizations, food pantries and meal sites.

Fifth Season Cooperative: Connecting Food Producers with Buyers

Producing high-quality food is not always enough; sometimes growers and processers need help connecting with the right markets for their products. That was the impetus behind the creation of Fifth Season Cooperative. A food and farm assessment in 2008 by the Valley Stewardship Network showed the need for an organization that would introduce Wisconsin food products to markets throughout the Midwest.

Farm Table Foundation: Bringing Food From Farm to Table

Creating an organization that seeks to educate people about soil health and about the benefits of locally grown food can be a challenge—especially if that organization is in Amery. This small community in northwest Wisconsin has a population of less than 3,000 people. Compounding the situation for the founders of the Farm Table Foundation was the difficulty of hiring and retaining staff, and then the arrival of the COVID-19 pandemic.

Woodland Regional Technical Academy: Boosting Rural Education

Educational and career opportunities are often limited for students in rural areas. To level the educational playing field for rural Wisconsin youth, representatives of Northeast Wisconsin Technical College teamed up with local school districts to provide supplemental classes to area high school students. The goal was to provide college-level experiences and training that could give students a jump-start toward a successful career.

Wisconsin Early Education Shared Services Network: Expanding Access to Child Care

Throughout the state, day care programs have closed, plagued by problems with finding and keeping employees, handling administrative requirements and maintaining adequate financing. As a result, residents of both urban neighborhoods and rural communities have struggled to find the child care they need in order to meet their job responsibilities.

Community First Washburn County: Mobilizing to Keep Residents Healthy

When the COVID-19 pandemic hit, a statewide lockdown in March and April forced non-essential businesses to close, putting employees out of work and creating financial hardship for many of the nearly 16,000 residents of Washburn County in northwest Wisconsin. Businesses needed support, families needed food and residents needed to know they were not alone.

UW Population Health Institute: Improving Rural Health

The COVID-19 pandemic has taken a higher toll on residents of rural Wisconsin, following years of reduced health services for those regions. The Community Resilience and Response Task Force was formed in a collaboration among the Wisconsin Department of Health Services, the University of Wisconsin Population Health Institute, UW-Extension and the Wisconsin Governor's Office. The task force collects and analyzes data, identifies gaps in policy and service and recommends ways to create equitable health care options for rural residents.

Soil Sisters: Supporting and Celebrating Women Farmers

More than a decade ago, more women began to realize that they were choosing to become farmers in hopes of enjoying rural life and embracing sustainable agriculture. In late 2009, Lisa Kivirist invited a dozen women to her organic produce farm and bed-and-breakfast in Browntown to share stories, advice and support. The group, Soil Sisters, began to hold regular potluck meetings, welcoming women farmers, rural entrepreneurs and residents in and around Green County, in south central Wisconsin.

Snow River Cooperative: Employees Buy Former Company

When Columbian Home Products announced in fall 2019 that it would close its Crandon division, Snow River Products, the eight employees faced the prospect of losing their jobs. Many had been with the company for more than 30 years, and had few employment alternatives in the area. Snow River, a manufacturer of wooden cutting boards and bowls, had been operating in the area for more than 100 years, previously known as Bemis Manufacturing.

RideSMRT: Increasing Transportation Options in Rural Areas

Southwest Wisconsin features scenic views from lazy roads that curl through the bluffs overlooking the Mississippi River. For people living in the rural hills and valleys, though, there was no easy way to get to work, school or appointments, and few options for joint travel to reduce fuel emissions. Elderly and disabled people needed inexpensive transportation options—so did students, employees and even tourists.

PBS Wisconsin Ready to Learn: Enhancing Early Education

Children in low-income communities often miss out on some of the educational opportunities available to those in higher-income areas, and their families often face challenges such as food or housing insecurity. Could high-quality, media-rich learning programs help address these challenges? Were there opportunities to get families more involved in their children's early education? The Corporation for Public Broadcasting and the Public Broadcasting Service set out to answer those questions.

Inventors & Entrepreneurs Club of Juneau County: Supporting Entrepreneurs

Juneau County is a largely rural area in west central Wisconsin with a population of about 27,000. Manufacturing had been a critical contributor to the economy, employing as many as 1,500 people. But three major factories closed in 2000 and 2001, leaving many of their employees with few alternatives. The Juneau County Economic Development Corporation, a public-private partnership, stepped in and launched the Inventors & Entrepreneurs Club of Juneau County in 2002, when the area's unemployment rate was nearly 14%. The goal was to diversify and strengthen the local economy.

Door County Emergency Support Coalition: Help for the Homebound

When the COVID-19 pandemic left many people isolated at home, the Door County Fire Chiefs Association joined forces with local organizations to make sure that residents and guests were able to receive the information and non-emergency services they needed. The goal was to serve as a clearinghouse to answer questions, handle requests for help and connect people with sources of assistance. Nearly 30% of Door County residents are over age 65, a group considered among the most vulnerable to the COVID-19 virus.

Cuba City Presidential Plaza – Community Gathering Space

Cuba City is a thriving agricultural and business community in southwest Wisconsin, and a neighbor to Platteville and Dubuque—but one thing the city of 2,000 had lacked was a place for people to gather downtown, to visit with each other over a cup of coffee, to play cards or to hold community events.

Alliant Energy: Bringing Solar Power to Low-Income Communities

Alliant Energy wants to expand access to solar energy to help reduce its dependence on fossil fuels for generating electricity—but the cost of installing rooftop solar panels is too expensive for many residents, especially those with lower incomes, so the Madison-based utility company decided to choose a site for an array of solar panels to be erected to serve an entire community.