success story
Soil Sisters: Supporting and Celebrating Women Farmers
Highlighting a growing trend
Soil Sisters support and celebrate women farmers
More than a decade ago, more women began to realize that they were choosing to become farmers in hopes of enjoying rural life and embracing sustainable agriculture. In late 2009, Lisa Kivirist invited a dozen women to her organic produce farm and bed-and-breakfast in Browntown to share stories, advice and support. The group, Soil Sisters, began to hold regular potluck meetings, welcoming women farmers, rural entrepreneurs and residents in and around Green County, in south central Wisconsin.
More women choose rural, farm life
The number of family farms continues to shrink in Wisconsin, but the ranks of women farmers are growing. In fact, they are one of the fastest growing segments in farming today, according to Soil Sisters. Nationwide, the number of women-owned farms tripled from 1978 to 2012, and in Wisconsin, the number of women farmers jumped nearly 60% just in the 10 years between 1997 and 2007. Many of their operations are in and around Monroe and Brodhead, in Green County. Soil Sisters members raise fruits and vegetables, herbs and flowers, and a wide variety of livestock. They also make cheese and create fiber art. And they mentor and champion women who have chosen the rural life—whether they are starting diversified farm operations or small-town businesses building the local food system.
From Soil Sisters' potlucks and gatherings, members have shared their visions and collaborated to sprout new businesses. They include Landmark Creamery, a cheesemaking operation, and Driftless Traditional Tannery, which provides natural tanning for sheepskins and goat hides.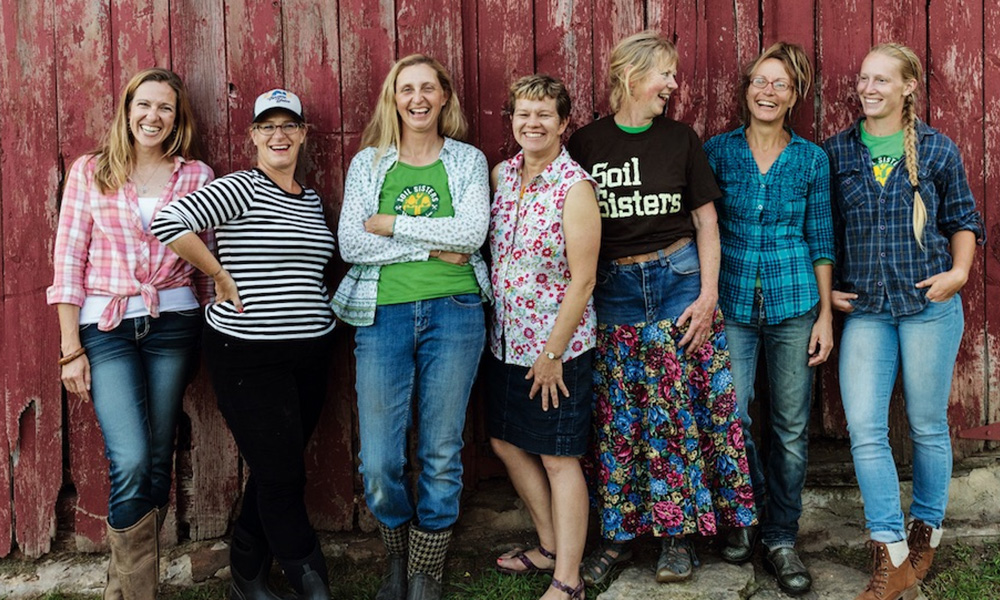 Photo: Modern Farmer, March 2018
Banding together, effecting change
Soil Sisters has grown to include more than 225 women and is part of a national nonprofit, Renewing the Countryside. By working together, members of Soil Sisters have raised awareness of women in farming and have made a difference in state regulations. They helped convince a Wisconsin circuit court judge to overturn a state statute banning the sale of home-baked goods, and they worked to get Green County officials to stop issuing permits for large-scale farms. Before COVID-19, Soil Sisters held an annual three-day event showcasing Wisconsin family farms and rural life—and they plan to bring back the festivities in 2022. The special meals, classes and tours of more than 20 women-owned farms celebrate their lifestyle and the beauty and benefits of raising home-grown, local food. The Soil Sisters weekend—which attracts as many as 1,000 people—is believed to be the largest women-farmer-led event of its kind in the nation.