success story
Tackling a child care void
Lac Courte Oreilles Band's new day care center serves Hayward
Helping parents and the local economy
Child care facilities have always been hard to come by in Sawyer County. A community survey found a severe shortage of affordable, quality child care in the county—especially for infants and toddlers. New parents faced waiting lists that were several years long for a spot at existing facilities. When the COVID-19 pandemic hit in 2020, shutting schools and businesses, members of the Lac Courte Oreilles (LCO) Band of Lake Superior Chippewa were among those hard-pressed to find appropriate day care for their children. Some had no other option but to stay home from work.
The center opens its doors to the community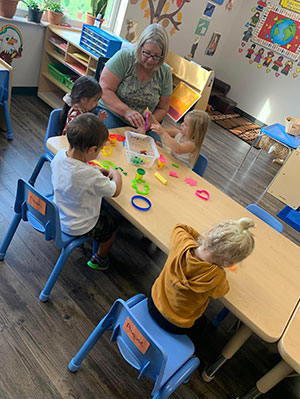 The tribe set the wheels in motion to build a child care center, handling children from birth through elementary school. The $3.3 million facility was funded through a series of grants, including funds from the federal Coronavirus Aid, Relief and Economic Security Act. The LCO Day Care Center, called Genawendaawasong, or "place where we take care of children" in the Ojibwe language, opened to the first 50 youngsters on July 1, 2021. By summer 2022, the center cared for 100 children, ages two weeks to 12 years old, not just from the reservation but from throughout the Hayward community. "We have the space; we have a really beautiful facility. We opened our doors to everybody," Director Marie Wooten says. Even as the pandemic continued, the center stayed open and kept in close contact with public health officers. "We wanted to be open for those essential workers who were employed by grocery stores, hospitals and tribal entities, as well as people who work at the courthouse and local factories. They need the child care," Wooten says.
There's room to grow in the future
The new child care center, which is licensed by the Wisconsin Department of Children and Families, is approved to house as many as 136 children but can't add any just yet. "If we had more teachers, we could take more kids," Wooten says. Even with health and dental insurance and paid time off that the tribe provides, the industry's traditionally low pay makes it difficult to retain employees. The center's kitchen staff prepares breakfast, lunch and an afternoon snack for the children, and brings out extras for youngsters who need it. The facility also has a partnership with the nearby Lac Courte Oreilles Ojibwe College whose early childhood education program is expected to provide potential employees for the child care center. "The tribe has worked hard to get this day care open; it has been needed for many years," Wooten said. "It has been great to watch our program grow from Day One, and grow as quickly as it has. We have great staff, great families and great children."
"We wanted to be open for those essential workers who were employed by grocery stores, hospitals and tribal entities … They need the child care."