success story
Rural Wisconsin Health Cooperative
Rural Wisconsin Health Cooperative creates economic development arm
Rural hospitals partner with local communities to bolster economic stability.

It's hard enough for many of Wisconsin's rural communities to deal with the challenges resulting from declining population, struggling family farms, and the stresses brought on by the COVID-19 pandemic. What if they lost their local hospitals? Residents need access to emergency medical care, and an aging population generally depends on more—and more costly—health care. "During an economic decline, it is often very challenging for rural hospitals to keep their doors open and to retain access to local care for their community," says Marie Barry. "There are strong connections between economic outcomes and health outcomes."
Fostering connections, offering support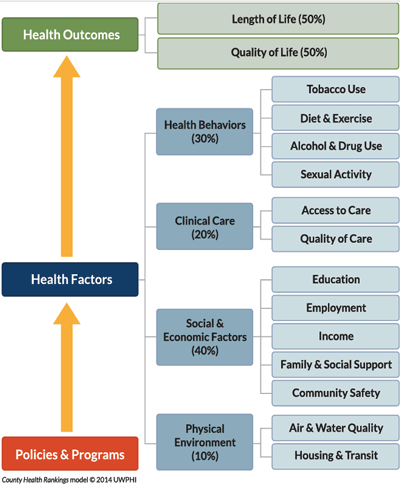 The Rural Wisconsin Health Cooperative (RWHC)—a nonprofit founded in 1979 and owned by 44 rural hospitals—created the Community Economic Development Program in 2021 and hired Barry as director. Through the program, the organization provides data analysis, technical assistance, focus groups, economic analyses, and community coordination for projects aimed at strengthening the local economy. "We know that clinical care only accounts for 20% of what keeps people healthy, while factors such as social connections, safety, and transportation play a much larger role in health. Our goal is to proactively go out into the community and make it a healthier place to live," Barry says.
Several rural philanthropists and partnerships with Wisconsin hospital systems fund the program.
"One strategy that hospitals use to strengthen their local communities is acting as an anchor institution and working to capture more external resources for needed services and projects," Barry says. In one instance, Gundersen St. Joseph's Hospital in Hillsboro delivered a $500 check to the nearby Good Samaritan Food Pantry and asked how else it might help. Food pantry leaders said their building could use some critical basics: a new roof, a new freezer, energy-efficient windows, and secure doors. Hospital officials helped write a grant application to the Otto Bremer Trust to pay for the improvements, and the St. Paul, Minnesota-based philanthropic organization awarded $56,315 to the food pantry. "That's a huge amount for a nonprofit operating with limited resources," Barry says.
Other examples include:
Grant Regional Health Center collaborated with a local manufacturer to create Growing Lancaster, an initiative designed to welcome immigrants and offer Spanish classes and cultural training for local employers, as well as signs and documents translated into Spanish.
Reedsburg Area Medical Center is working with area companies and child care providers to create more, affordable child care for employees.
Black River Memorial Hospital is helping local communities with their effort to gain broadband services.
Creating a model
The RWHC program works one-on-one with hospitals on projects and hosts quarterly webinars. It values strong ties with University of Wisconsin-Extension and the UW Population Health Institute. "Our work doesn't have hospitals take over economic development; they are partners that invest in our communities," says Barry.
RWHC hopes to expand its program and serve as a resource to other organizations across the U.S. to show how hospitals can collaborate with community groups and strengthen rural areas together. Wisconsin has bucked the national trend, so far—only one rural hospital has closed in the past 18 years.
"The economic vitality of a community is intrinsically linked to the ability of your hospital to be able to provide access to health care for generations to come," Barry says.
"The economic vitality of your community is intrinsically linked to the ability of your hospital to be able to provide access to health care for generations to come."