Building relationships, bolstering rural communities
Beth Haskovec brings a rich community development background to the ORP
Beth Haskovec grew up in northeast Iowa, in the small town of Waukon, barely half an hour from the Wisconsin border.  But she got her start in Wisconsin and spent her first days here.
"I was born seven weeks early. My mother had to go to the hospital in La Crosse—the closest one that could handle the complicated birth," she says.
Beth is the new director of the WEDC's  Office of Rural Prosperity (ORP). She joined the office in late June, taking over from Marcy West, who retired.
Along the way to her job at the ORP, Beth picked up a wealth of experience working with people and advocating for community development—in Wisconsin, around the U.S. and overseas.
After graduating from the University of Northern Iowa with a degree in nonprofit management, Beth signed on with AmeriCorps VISTA, coordinating literacy volunteers at Lapham Elementary School in Madison. Then, she tackled broader vistas and joined the Peace Corps. Destination: Romania. In her two-and-a-half years there—spent primarily in Bacău—Beth was a consultant to nonprofit organizations, including a grassroots environmental group and a theater group that performed puppet shows in schools focused on AIDS prevention, part of a U.S. Agency for International Development program.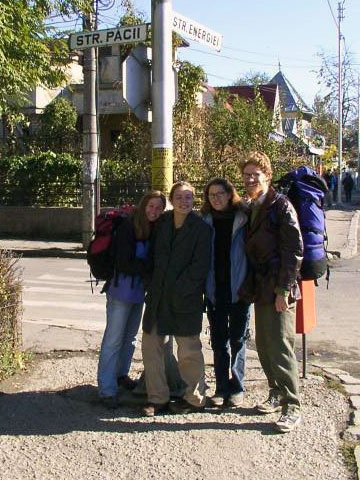 "As you get to know a community, relationships evolve and you take on more projects," she says. "You build relationships, see who's doing good things and find out how you can elevate them—much like we do here at ORP."
Beth came to love the language, the beautiful landscape and the people of Romania. "People would give you the shirt off their backs. It was a warm and inviting place," she says.
The Peace Corps assignment was much more than just an opportunity for Beth to volunteer her services; it left her with foundational values and lifelong friends, she says. "I grew up in a town of 5,000 with one stoplight in the county." Living in Romania "opened my eyes to the bigger world."
Beth came to the ORP from Rural LISC, part of the Local Initiatives Support Coalition, a nationwide nonprofit that supports community development in metropolitan areas. Rural LISC partners with more than 140 community-based organizations, helping them to identify challenges and to provide technical assistance, training and financial support to address those challenges. Beth—who had spent a decade working on equitable urban development in Milwaukee prior to the position with Rural LISC—covered ground that ranged from the Louisiana bayous to the Vermont foothills and from Hawaii to Puerto Rico.
"It provided a wonderful framework. But I realized that for me, to have more of a deep and lasting impact on a community, I needed to be in one place," she says.
Rural reminiscences
For Beth, rural living is nostalgic and idyllic. But she is also well aware of some of the challenges: "I'm the proud granddaughter of a self-proclaimed ornery farmer, and that shapes my upbringing and appreciation for rural communities."
Both of her parents were the children of farmers, and at their own home, they maintained a subsistence farm. They grew green beans and tomatoes and cared for fruit trees and grapevines. Their root cellar was stocked with homemade jams and jellies, canned tomatoes and home-fermented wine.
"I didn't know how wonderful that was until I became an adult and realized that's not how most people live," Beth says.
Her mother made quilts, and together, her parents built bookcases and worked the land. "I developed a real appreciation for self-reliance. My mom's favorite saying was: 'May you always have enough and plenty for the day; may you never have enough to waste or throw away.' That has become a default mantra for me throughout my life. And I think a lot of rural people have those values," she says.
The Waukon area where her family lived was very hilly, with expansive views from the hilltops. In the summers, Beth worked at a camp in nearby Dorchester, Iowa, climbing the ladder from counselor-in-training to assistant director. "I really loved it. It taught me to value spaces where people can be authentically themselves."
Living in a small-town rural area, though, was not always easy for the businesses or the farmers.
"Growing up where I did provided the seed of why I got into economic development," she says. "In the community where I lived, it was hard to keep the clothing store open. We had to drive to La Crosse to go shopping, and we drove to Prairie du Chien to go to the movies. In the early 1980s, during the recession, a lot of stores were closing and farm prices left farmers struggling to keep operating."
It made her want to do something to help businesses and rural communities, to keep them strong and growing.
Taking on new challenges
At the Office of Rural Prosperity, Beth is drawing on her rural roots as well as the lessons she has learned from her experiences in community development, including her Peace Corps work.
"In a lot of ways, the type of work is similar—finding and connecting people to resources," she says. "That's really foundational in the principles of community development: Uplifting a community voice and being able to navigate in a culture or communicate in an area that might have values different from your own, without imposing your ideology on them. Find people doing good things and help them do more of the good things that they're doing."
Beth plans to travel around state to understand what its rural communities need, including several visits to northern and western Wisconsin. "It's really important for me to be in the rural communities hearing directly from our partners, from municipalities and from potential partners," she says.
Beth also will be the tribal liaison for WEDC, working closely with David Fleming to build relationships with Wisconsin's tribal communities. Fleming, a member of the Lac Courte Oreilles Band of Lake Superior Ojibwe, covers northern Wisconsin as a program specialist for ORP's Revitalizing Economic Vibrancy After a Major Pandemic program.
Beth's goal for her first year on the job is to generate positive changes on a broad scale by focusing strategically on several issues that are "timely and relevant, and create a large impact across the state," she says. "So many areas contribute to the quality of life in rural communities—it's really important to hone in on what we're great at and where we can create significant change.
"The Governor's Blue Ribbon Commission report is a terrific guidebook for outlining what's possible," she says.
Getting to know Beth Haskovec behind the scenes
Family: Known as the "fun aunt" to her three nephews, ages 9-14, she likes spoiling them with special attention, taking them on trips, such as sea kayaking on Lake Superior, and joining them in sing-alongs to their favorite pop music.
Pets: Her dog, Ella, a mixture of flat-coated retriever and pug
Hobbies: Cooking and baking, experimenting in the kitchen and taking on culinary challenges; hiking, kayaking and being out in nature; exploring Wisconsin's supper clubs
Favorite foods: "I love the slow food movement. Jamie Oliver's eggplant parmesan is one of my favorite recipes to make." She is famous for her dinner parties—which turned into porch parties during the pandemic—featuring recipes she concocts for cocktails and hors d'oeuvres.
Favorite foods, growing up: "Mom and Dad's green beans were pretty well known across eastern Iowa. Mom used to care for children at our home, and her green beans were the only ones they would eat. And I still always use their canned tomatoes when I make tomato sauce or chili."
Sports: "I'm a big fan of the Milwaukee Bucks. I love the personalities and the team. I think the shine that they've brought to the state is awesome!"
Favorite bands in high school: Indigo Girls and Boyz II Men
Favorite song: "The Story" by Brandi Carlile. "It's a beautiful, romantic song about why we need love in our lives."
How weird are you? "I take pride in my weirdness. I'm a big nerd. I like intellectual, conceptual work—thinking through concepts and policies."
Leading the Office of Rural Prosperity is Beth's first government job. "I feel so much opportunity. It's really exciting to be in a role designed to break down silos and create collaboration," she says. "We have a really strong team, and they're really well respected. I'm anxious for more rural communities around Wisconsin to get to know the team and have an opportunity to work with them. At the core, it's about trying to do the right thing for communities and provide resources to them."